Runners & Walkers

---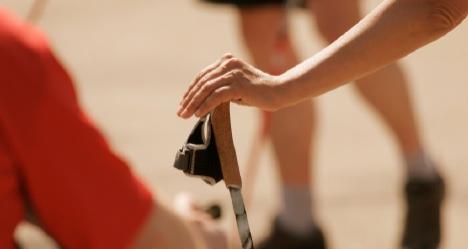 It's simple. It's natural. It can be done just about anywhere, by just about anyone, at just about any time. Running and walking are great ways to relieve stress, stay in shape, and enjoy the scenery. One can scarcely walk down the street without tripping over gift possibilities for those whose passions range from leisurely strolls to marathons. To keep your presents from running amuck, however, choose clothing, equipment, and accessories carefully.
An optical measuring instrument or pedometer would help the enthusiast keep track of the miles she covers.
Give a compact-disc player with a headset and a good supply of compact discs.
The folks at Road Runner Sports, www.roadrunnersports.com, can help you find the perfect shoe for the runner or walker on your gift list—whether she be a supinator or pronator, on- or off-roader, fitness walker or training racer.
Gifts of apparel include running shorts, singlets, T-shirts, spandex tights, sweatbands, and moisture-wicking socks. When the weather turns chilly, add warm-up suits, gloves, jackets, caps, and cold-weather masks.
Pamper the runner's or walker's feet with a vibrating foot massager or massaging footbath. Available through Brookstone, www.brookstone.com, and others.
Arrange for a walking tour of a city he or she has always wanted to see (Paris, London, or Rome, perhaps). Or enter the recipient in a 5K, 10K, or marathon and pay for all travel and entry expenses.
Give a subscription to Runner's World, www.rodalepress.com, a magazine for recreational and competitive runners. Runner's World offers training advice, shoe and clothing reviews, information on nutrition, reports on races, and articles that inspire and entertain.
The Baby Jogger, www.babyjogger.com, lets the mom or dad on the run take the little one along. Several models are available.
Give snowshoes to the active winter runner or walker. Redfeather, www.redfeather.com, boasts snowshoes that have revolutionized the sport.