Outdoor Cooks

---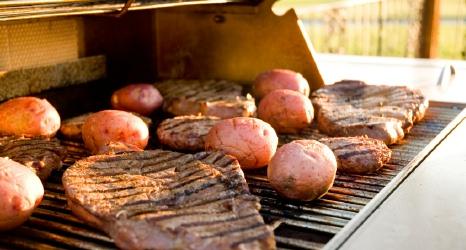 You can find them serving up hot guts (spicy link sausage) ranch-side in Texas, barbecuing lobster and clams seaside in New England, and grilling vegetables poolside in California. They assemble en masse in heated competition and smoldering debates at the Lovelady Lovefest, the Hog Happenin', and the Big Pig Jig. Masters of the grill are a diverse bunch—each with his or her own ideas about the perfect sauces, aromatic woods, meats, and seasonings. We've cooked up the following hot gift ideas for the outdoor cook on your gift list.
The first thing outdoor cooks disagree on is the proper grill. Investigate the recipient's preference for gas or charcoal grills and all the requisite bells and whistles.
Other basic equipment gift ideas for the outdoor cook include:
a portable grill, hibachi, or camp stove for outdoor cooks on the go

a water smoker for cooking large cuts of meat

Dutch ovens and accessories for cooking round the campfire

an indoor electric griller or stovetop grill for when the weather moves the cookout indoors.
A plethora of gizmos and gadgets are available for outdoor cooks. Here are just a few: steak and poultry buttons, a grill thermometer, kabob racks and skewers, heat- and flame-resistant barbecue gloves, scissor tongs, a gas match, a tool and sauce holder, grill maintenance accessories, a chimney starter, or telescoping roasting rods.
Barbecuing is an easy and fun way to entertain. Give gifts that add flair and style to outdoor entertaining: a steak knife set, steak platters, sturdy dinnerware, glassware, flatware, a condiment caddy, a serving cart, an apron or chef's hat emblazoned with the appropriate sentiment or nickname, table cloths and clips, lanterns, or a picnic table and benches.
Great tasting food is the number one reason for grilling outdoors, according to a survey by the Barbecue Industry Association. Gifts of great taste include:
choice steaks or seafood from the local meat counter or a specialty Internet site

a cookbook or a collection of favorite outdoor recipes

an assortment of sauces and marinades

smoking woods

herbs and herb rubs blended for seafood, beef, or poultry.
Many of the gifts listed above as well as other great gifts for the outdoor cook can be found at www.grilllovers.com.