Baby

---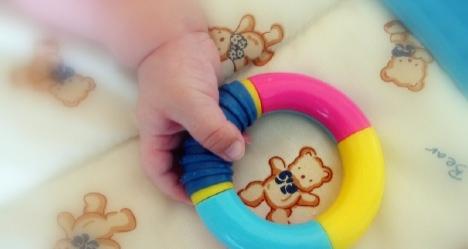 Infants look, listen, touch, smell, and taste their way through the first year of life as proud parents chart baby's first smiles, rolls, claps, words, and steps. Items designed to stimulate baby's senses and encourage hand-to-eye coordination make great gifts. A few are listed below.
Busy Bodies. A busy box with fun peek-a-boo mirrors, dials, spinners, and sliding doors would keep baby occupied for hours. Some are designed for both crib and floor play.
Music to the Ears. A colorful musical mobile with high-contrast images that face the baby would provide audio and visual stimulation for the young infant.
I See You. Babies love to play peek-a-boo! Give a framed safety mirror that attaches to the crib.
I Get Around. Pushing and rolling toys, chunky little cars and trucks, and colorful balls are perfect for babies that are starting to get around on their own.
Rubber Ducky. Squeezable, floating tub toys would make bath time fun for little ones.
Lullaby, and Goodnight. To lull baby into a gentle sleep, give a tape of lullaby music. Both vocal and instrumental versions of the classics as well as new songs are available.
Tell me a Story. Sturdy cloth and vinyl storybooks with simple images are good choices for the very young. If you choose to give activity books, make sure the detachable pieces are too large to swallow and that such items as buttons and snaps are securely fastened.
In Living Color. If you are artistically inclined, paint a colorful mural on the walls or ceiling of the baby's room. Or hand paint a dresser, a rocking chair, a toy chest, a rocking horse, or another baby toy or piece of furniture for the nursery. Be sure to use only nontoxic paints and finishes on baby items.
Seeing is Believing. Interesting wall hangings, pictures, night lights, lamps, switch plate covers, and other nursery accessories also provide visual stimulation.
Tick Tock. Give a grandfather clock, ". . . bought on the morn of the day that he was born."
Market Share. Give baby a framed share of Disney stock for a gift he or she will grow to love.
Playing for Keeps. There is a wide variety of sterling silver keepsakes for baby. Choose from cups, barbell rattles, feeding spoons, pendants, and more.